Kendrick Sands from Euromonitor International provides an overview of the m-commerce landscape and its implications for the future of digital shopping
COVID-19 has accelerated existing m-commerce and consumer payment trends around the world. M-commerce growth has been limited by consumers not seeing the additional benefit over their existing preferred payment method. The pandemic has made clear the value from social distant purchasing both in proximity in-store and remote mobile payments. Euromonitor projects total m-commerce across 47 researched markets to reach USD 6.2 trillion by 2025. M-commerce across the same markets increased by 26% from 2019 to 2020. Some key developments in the immediate future for m-commerce will be the focus on virtual brand engagement, consolidation in the fintech space, rising level of fraud, and an increase in mobile proximity payments.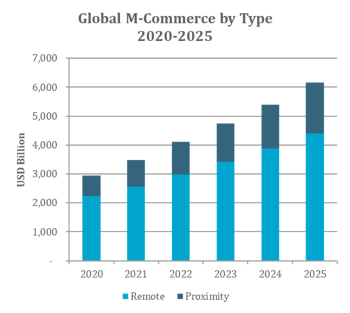 Source: Euromonitor International
Virtual brand engagement
Companies have always sought to reach consumers where they already are, and with COVID-19 that has meant at home on their digital device. Social media companies have been well-positioned to connect companies to consumers and have launched several shopping platforms in 2020. In May, Facebook launched Shops, which enabled brands to set up virtual storefronts. Google launched Shoploop, a video shopping platform for discovering and purchasing products. Amazon opened up Amazon Live to influencers to enable them to earn money from it. Alibaba Group and JD.com recently hosted their annual 6.18 shopping festival, which generated USD 136 billion in sales. During the event, Alibaba Group's Taobao Live welcomed 300 celebrities and 600 brand executives to engage with consumers in real time. More than 50,000 retailers leveraged livestreaming capabilities to reach consumers during the event. Consumers are growing to expect this level of engagement, and these additional platforms will drive m-commerce growth in 2021.
Fintech acquisitions to continue
M-commerce growth has led to a rise in financial card payment value much more than electronic direct/ACH payment growth. Due to the pandemic, from 2019 to 2020 global consumer payment value fell – with paper payments declining 17% but card payment value increasing 2%. The financial card networks have invested heavily in securing their position in payments partially through fintech acquisitions. In 2019 Mastercard acquired Ethoca, Vyze, Transactis, and RiskRecon, and in 2020 they acquired IfOnly and Finicity.
In 2020 Visa acquired Plaid for USD 5.3 billion. These acquisitions allow the card networks to be well-placed in an evolving digital payment landscape and will likely continue into 2021. A complete m-commerce platform has many pieces, but the card networks will continue to be at the centre.
Rising rates of fraud
The total value lost to fraud from financial cards has accelerated as more payment volume has moved digital. Of the seven categories that Euromonitor…
Read More:
Top m-commerce trends to look for in 2021