The pandemic has made life difficult for teenagers who want to earn some cash. Many of the weekend jobs in retail and hospitality they would traditionally have looked for have fallen by the wayside as new coronavirus measures restrict opening hours and customer numbers. Meanwhile, babysitting gigs are less frequent as parents have fewer opportunities to leave the house.
Saturday jobs were already on the wane, with teenagers increasingly prioritising their schoolwork over weekend employment. But those who want to work may face competition from older teenagers and adults for the casual jobs that are out there.
Rising to this challenge is a new generation of teen entrepreneurs who have set up their own businesses. We spoke to some to find out how the pandemic had spurred them to go it alone.
'I spend money as if I don't have a lot of it'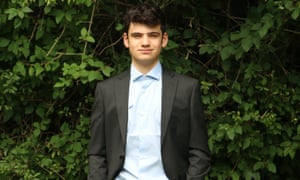 When 16-year-old Laurence Moss heard that his GCSEs had been cancelled as a result of the Covid crisis he decided to throw himself into the social media marketing business he began two years ago. After working several hours a day during lockdown, the Kent-based teenager is on target to hit £20,000 in revenue this year.
"I had so much time I thought it would be a shame not to," he says. "Growing the business by winning new clients takes up the time, rather than maintaining it. In lockdown it snowballed and by May I hit over £1,000 for the first time and it almost doubled the next month."
Moss's business, Greedy Growth, grew out of a hobby he began when he was 13, curating content he found on Instagram. "I had pages about motorbikes, niche travel, cars, cats and dogs. I gathered viral content and pushed it on to the pages. It was purely for the fun of it," he says.
While his peers were "playing Fortnite" Laurence found himself being approached by brands that wanted to buy sponsored posts to reach the 350,000 followers he had built up in his Instagram communities.
Rather than settling for earning the occasional £100 here and there, Laurence decided to launch his own company to offer Instagram-specific marketing services. He offers advice to firms that want to increase their reach on the platform.
At the age of 14 he launched Greedy Growth's website and began earning a few hundred pounds a month, paid into his personal bank account. About a year later, at the end of 2019, he was earning £500 to £1,000 a month.
Now back at school studying A-level philosophy, maths, history and economics, Laurence hires freelancers via the gig economy platform Upwork and the jobs site Indeed to do the operational work while he focuses on securing new accounts.
He is honest with his clients about his age but has put measures in place to ensure he is viewed as credible.
The age at which you are allowed to be a company director is 16, so when he became old enough he made a change….
Read More:
'By May I'd made over £1,000': teen entrepreneurs defy the Covid slump | Money