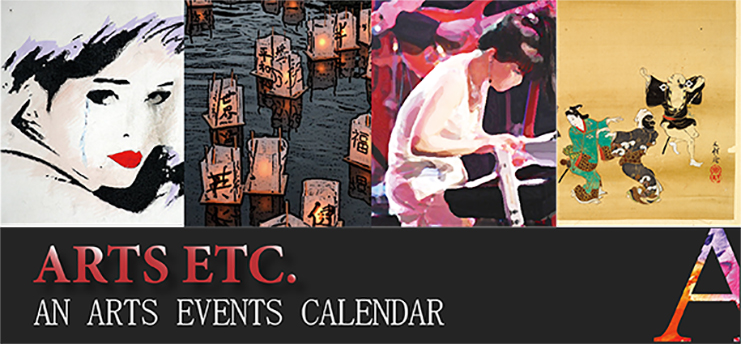 Due to the Covid 19 crisis, it is advisable that people check ahead with institutions before visiting by calling or going to their websites as government restrictions may apply or change at any time. Some galleries have limited hours with a limit of how many people may enter at one time. Face masks are mandatory.

Visual Arts
Seattle Art Museum's downtown location has re-opened. Tickets to SAM are being released in batches and you can now purchase them for visits to SAM through October 11, 2020. Ongoing and on view is the group show "Exceptionally Ordinary: Mingei 1920 – 2020" which includes wood sculpture by George Tsutakawa  from his "Obos" series.  "Color in Asian Art: Material and Meaning" is the latest installment in the popular Saturday University lecture series. Starts on Saturday, October 3 online and it is free.  The Seattle Asian Art Museum is still closed. Go to seattleartmuseum.org for details on all this. 
Sherry Ying Ruden's show entitled "X-paper Neoteric" features delicate abstractions on Chinese rice paper. On view through  September 26, 2020. Gallery  110 at 110 3rd Ave. S.  Wed. – Sat. from 11am – 6pm.  206-624-9336 or go  to www.gallery110.com.
The Cascadia Art Museum is now open and announces the following shows. "Gifts And Promised Gifts To The Museum's Permanent Collections" is a group show that includes the late John Matsudaira's masterpiece "Quiet Motion And Blue" which was featured at the Seattle's World Fair back in 1962. On view from September 17, 2020 through May 23, 2021. Other exhibits include "Dreaming Forms: The Art of Leo Kenny" and "Stolen Moments: The Photography of Shedrich Williams", a Portland photographer. These two shows above on view September 17, 2020 through January 10, 2021. Currently on view is "The Art of John Carl Ely" through November 8, 2020. 190 Sunset Ave. S. in Edmonds, WA. Hours are Th. – Sun. from 11am – 6pm. 425-336-4809.
The work of George Tsutakawa is included in a group show entitled "Around The Northwest School" on view through September 26, 2020. The work of Jueun Shin and Yerin Yang appears in a group show entitled "Contemporary Northwest Print Invitational 2020" also on view through September 26, 2020. Tuesday – Saturday by appointment only. 313 Occidental Ave. S. 206-624-7684 or go to www.davidsongalleries.com.
L.A. based Filipino American artist Elyse Pignolet's new show entitled "Send Her Back" combines offensive text against women by male politicians of our day with ubiquitous, decorative floral watercolors and classic vessels from the ceramic tradition to force an uneasy collision of art and ideas. As the artist notes – "Intentionally, I begin my process with something strongly associated with the feminine…pretty, decorative, domestic, familiar, a vase, a flower arrangement. My hope is to then slightly create a shift: to make the situation a…
Read More:
September 17 – Arts Etc.