Now is as good a time as any to get into streaming. Whether you want to share music with the world, color while your viewers watch or have epic fails in your favorite video game, there's an audience out there to watch and possibly even some money to be made. But to broadcast to that audience, you need a streaming platform. 
While Twitch is, by the far, the most popular service, it may not be the best option for you. To help you find the best platform for how you stream, we've compared Twitch against three key competitors: Facebook Gaming, Caffeine TV and YouTube Gaming. 
Twitch.TV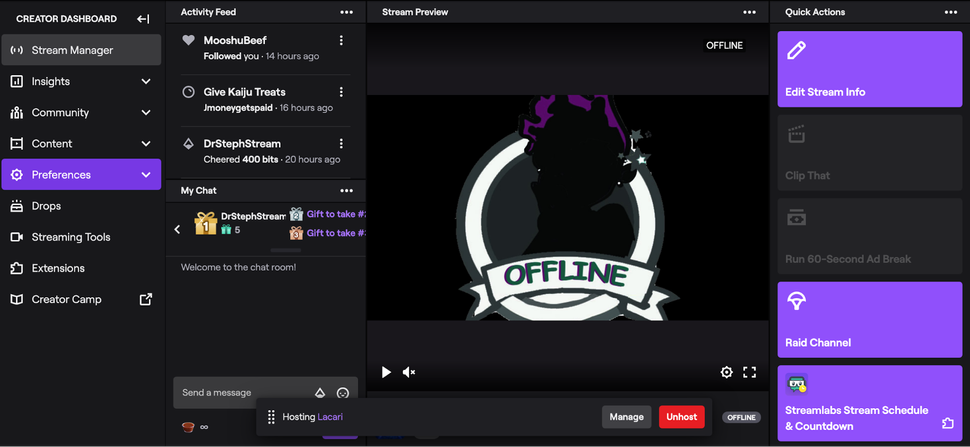 Twitch.TV
Pros:
+ Industry-leading platform; almost everyone is there 
+ Amazon integration 
+ Detailed analytics 
+ Easy to create and export clips 
Cons:
– Affiliates rarely make it to Partner status
– Streaming in 1080p isn't possible until you hit Partner
– Half of each subscription fee goes to Twitch
– Content belongs to Twitch and can't be posted elsewhere for 24 hours
A service almost as synonymous with streaming as Google is with web search, Twitch transformed from a live DJ service to a popular video game streaming platform, then into a live streaming service for music, art, gaming, STEM and more. This platform is a little more complicated to use than some competitors,though.
You can obtain "Affiliate" status after cultivating a community, keeping to a steady schedule, gaining frequent viewers and applying. Affiliates have access to monetization tools and streaming capabilities that regular streamers do not. After becoming an affiliate, you may be selected as a Twitch Partner if your channel gets significant engagement. According to Twitch, there only 27,000 of the 2.2 million streamers on its service are Twitch Partners. 
Setup: Streaming on Twitch requires a program like OBS, XSplit or Elgato Game Capture. If you're streaming from a console, you'll need a capture card on your PC to take the input. 
No matter what platform you game on, you will need a stream key to make it work with your software. Many third-party sites offer overlay graphics that go on top of your feed and contain information, such as your social media data, latest followers, tips and subscriber count. Although your gaming PC may be able to run a stream at 1080p resolution and 60 frames per second (fps), Twitch doesn't run streams at that level unless you're a Twitch Partner.
Special Features: Twitch provides customizable extensions specific to your software platform. This makes it easier for you to showcase your stream schedule and keep up with top donators, latest followers and subscribers. 
Every time a viewer subscribes to your channel, they get a set of emotes made especially for that channel. Emotes are like badges of honor to subscribers. Subscribers use various emotes in chats all across Twitch to show off the communities to which they belong.
Twitch integrates with Amazon, making it easy to sign up. Having Amazon Prime gives you…
Read More:
Best Streaming Platforms 2020: More Than Just Twitch